Its the 3rd installment in the Cook, Serve, Delicious series where this time the cooking is done on the road as you cook in a food truck serving Americans in a war ravaged America in the year 2042. Oh and Washington D.C. Has flooded and Nashville, Tennessee is the new capital of America. Deceptively easy to learn but incredibly difficult to master, Cook, Serve, Delicious! Is your journey of being the best chef in the world with your small but humble restaurant on the 50th floor of the Teragon Supertower. The Barista Update contains 36 new shifts, three new restaurants, a higher 125 level cap, 119 new objects to unlock, the new Zen Shifts mode for all 400 shifts, 24 new foods,. Cook, Serve, Delicious! Is the massive sequel to the surprise best selling original, one of the few games that gives players complete control on how they want to build their restaurant.
Cook, Serve, Delicious! Developed by: Vertigo Gaming Inc. Published by: Vertigo Gaming Inc. Release date: September 13, 2017 Available on: macOS, Linux, PS4, Switch, Windows, Xbox One Genre: Simulation Number of players: Up to two locally ESRB Rating: E10+ for mild language, violence, and alcohol use Price: $12.99 (Humble Store Link). COOK, SERVE, DELICIOUS! LAUNCHES ON PC, MAC AND LINUX. Intense restaurant management sim now available on Steam and Humble Store. September 13th, 2017 — Vertigo Gaming Inc.
A sequel to the popular cooking game is set to release this coming August.
Developer Vertigo Gaming recently announced that Cook, Serve, Delicious will be getting a sequel that includes a host of brand new features. The original Cook, Serve, Delicious released back in 2013 and quickly went on to become a popular game on Steam thanks to its challenging gameplay and unique time management components.
In the game, your character uses their life savings to buy a restaurant in the Teragon Supertower. There, you begin the process of building your restaurant into the best establishment in the world from the ground up. The upcoming sequel will include a similar premise, but will also introduce various new features as well.
Players can expect the following features in Cook, Serve, Delicious 2:
60+ Hour Base Campaign
New "Chef for Hire" Campaign Mode
The Return of the Classic Management Mode
New Local Co-Op Mode
New Gameplay Features and Additions
180+ Foods, Sides, Drinks, and Desserts
Full Steam Achievements/Cloud/Trading Cards/Leaderboard
1080p native/60fps
The changes seen in Cook, Serve, Delicious 2 will definitely excite fans of the original game. While you had six unique restaurant styles to choose from in the original, and no real control over the design, the sequel aims to include over 1,000 unlockable objects. These objects will give the player the ability to fully customize their restaurant.
At the end of each in-game day, these objects will randomly unlock, and players have the ability to unlock additional items by leveling up and completing objectives. Another exciting new feature coming to the sequel is local co-op. This new mode allows two players to work together in the kitchen, and swap jobs as needed.
Of course, with the Chef for Hire campaign spanning 400+ levels, you can return to channeling your inner Gordon Ramsey in single-player whenever you desire.
Cook, Serve, Delicious 2 is priced at $12.99 and is set to release on August 24th for Windows, Mac, and Linux. For more on Cook, Serve, Delicious 2, be sure to check out the game's official website.
Please enable JavaScript to view the comments powered by Disqus.
Don't Skip A Beat
Join Our Newsletter and keep up to date on the latest from HyperX. We promise to handle your information in line with our privacy policy.
Cook, Serve, Delicious! 2!!(Cook 2) by Vertigo Gaming Inc. is a restaurant simulator for people who enjoy time management challenges. Cook 2 is the sequel to its popular predecessor, Cook, Serve, Delicious!, which came out in 2013. Cook 2 appears to offer substantial improvements over it's predecessor, including the ability to customize your restaurant's decor, play a new mode (with tons of new levels) called Chef for Hire, and choose from six times the number of recipes.
Unfortunately, the Mac version of this launch languishes. I found it to be completely unplayable; it not only kept crashing every ten minutes, but the clock inexplicably ran at a super high speed that made the game nearly impossible to play, even on the first level. On Windows, however, it works great. (The rest of my review is based on my Windows experience.) [EN: Thank god]
Also, I wasn't in love with the music, which can feel repetitive quickly. During rush hour, the music tempo speeds up, heightening the sense of frenzy. I found that added to my stress level in a way that I didn't personally find enjoyable. But, maybe that's just me. Cook 2 is certainly intended for people who want an actual challenge: it's not supposed to be relaxing. It's supposed to get your adrenaline going, and it does. The music is a part of that, so I can't detract too many points there, as it does what it's supposed to do. I only wish the music had been either more interesting or more unobtrusive. [EN: This note on the music was apparent from the trailer, I believe.]
I feel I must mention that at random points during a shift, you are treated to Japanese text that has the English translated below, announcing things like leveling up or nearing the end of the day. I find this hilariously perplexing. Perhaps it's a bug?
BEING THE CHEF
The gameplay had a somewhat steep learning curve. I had to find the tutorials in the menu myself to figure out how everything worked, as nothing is automatically explained. The documentation is not always clearly written, and some typos make it seem unprofessional.
Cook Serve Delicious 2 For Mac Cheese
Despite the initial slow start, once I knew how to play it was fun and addictive. I had to experiment to find out what worked best for me in terms of play style. I started out trying to use the mouse for everything, but that simply wasn't fast enough. Adding in just a few keyboard shortcuts (such as using the Enter key to serve an order, or using the Spacebar to flip a page) alongside my mouse clicks made things a lot easier. Yet even doing that, the game felt difficult at Level 1.
There are several impediments to smooth gameplay. Firstly, you cannot undo errors or back out of tasks. You are forced to suffer for your mistakes without being able to correct them, as far as I can tell. If I accidentally clicked on a dish that wasn't fully cooked yet, I couldn't just throw it back in the pan and let it cook longer. I had to serve it that way to the customer, which felt frustrating and unrealistic to me.
Secondly, tasks (such as chores) and customer orders show up in the Prep Station queue in an order that felt chaotic to me. If I was waiting on serving something in Prep Station 3, for example, and therefore served another customer's order from Prep Station 6 instead, then if a new customer showed up his or her order would go to Prep Station 6 (or whichever station was empty with the lowest number). I found this made it impossible for me to keep track of which orders came in before others, because they don't reorder based on the time you have left to fulfill them. The only indicator that you have to go by is that when you only have a few seconds left to serve an order, it starts disappearing off the screen—but by that time, it can be too late to do anything useful about it. If orders that came in first stayed first in the queue no matter what, I think that would make much more sense.
Lastly, there are Holding Stations where you can keep food that is already prepared, but you have to keep a constant eye on it. The food sitting there can run out or simply deteriorate in quality to the point where you no longer can serve it and have to throw it out. I often found myself losing orders or scrambling in a panic because food I was counting on using from the Holding Station was no longer usable all of a sudden. A good solution would be a more obvious indicator or warning when the food is about to go bad or run out, so that you can replace it with fresh food in time.
OFF THE MENU
One of the most beloved aspects of the first Cook seemed to be that you could map any ingredient to any key of your keyboard, and thus execute a complicated series of actions with a couple of quick keystrokes -- if you'd memorized them. That seems to not be possible in Cook 2. (At least, not in the demo version of the game.) Possibly, the drastic increase in the number of ingredients in Cook 2 has made playing that way impossible [EN: #humbleBrag]. There's an option to replace the default keys that represent a page of options with whichever keys you'd prefer — but that looks like the extent of it. So, if you were hoping to map specific keys to specific ingredients, you might be disappointed.
My favorite aspect of Cook 2 is how it looks. The food looks delicious, and the customers look like plausible individuals, as opposed to cloned robots. The unique style of Cook 2 strikes a balance between detailed realism and cartoonish simplicity that I find to be extremely pleasant.
Cook Serve Delicious 2
The Verdict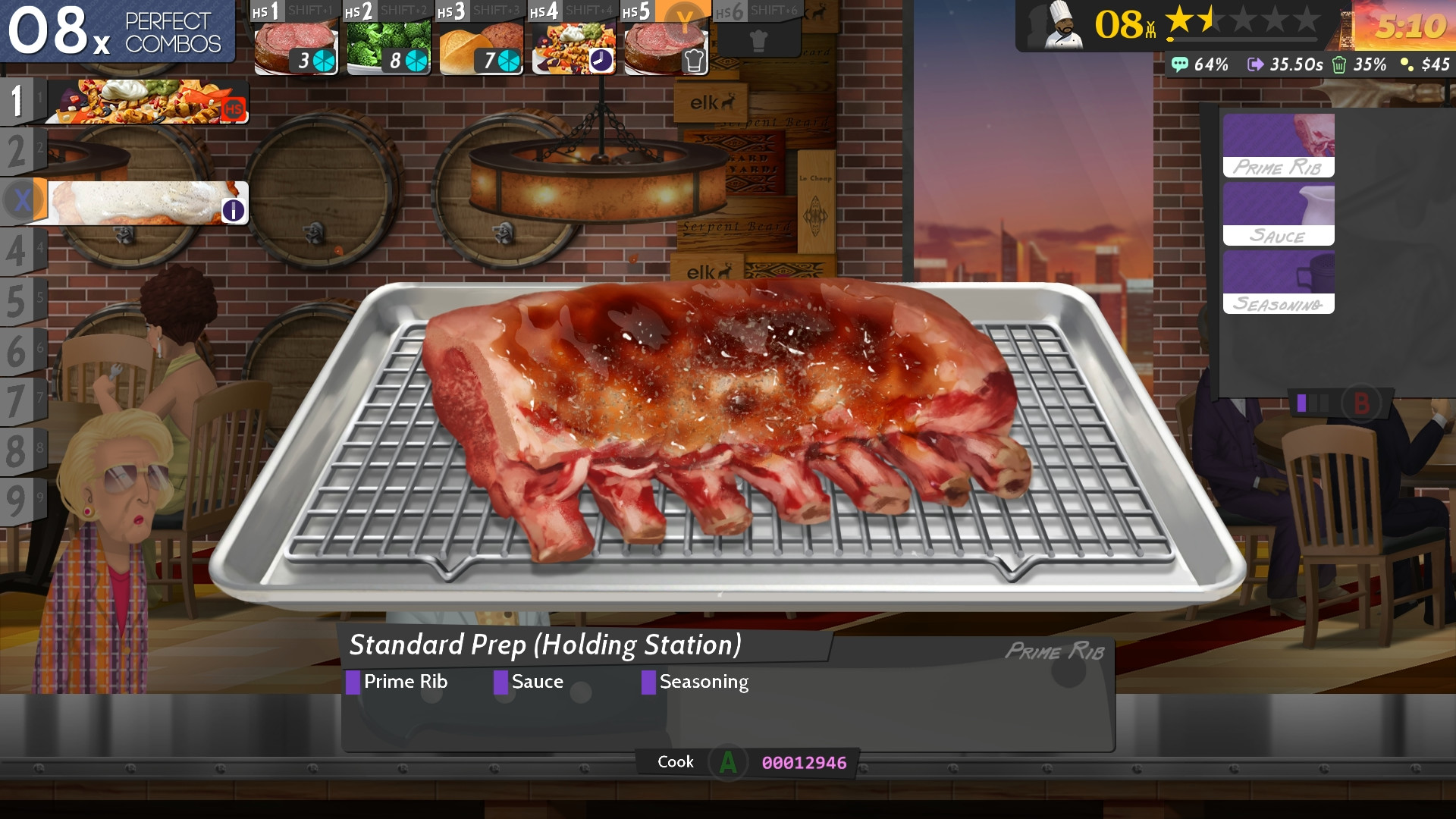 If you loved the first Cook, Serve, Delicious!, then you'll probably love Cook 2,as well. While there are major bugs for the Mac version right now, there are only minor bugs for Windows. I feel like using a mouse and keyboard will always feel somewhat constraining, however, although improvements to the gameplay could alleviate that feeling somewhat. As Cook 2 stands now, it is compelling, with plenty to enjoy in it, although it feels a bit stilted.
Cook Serve Delicious 2 For Mac 7
Cook 2 would make much more sense to me if it were playable on a tablet. I think it's much more intuitive to be able to tap on a screen for time management games in general, because it's simply faster than clicking or typing. The first Cook is both available in the Apple Store and on Google Play, so perhaps Cook 2 will follow suit in the future. If it does, I think that version would be something I can much more confidently recommend.