During the Kensington Market Jazz Festival last night in Toronto, attendees were treated to something special: Cuphead's brilliant music. It was performed live by the original band that brought us the soundtrack. The band features nearly twenty musicians and much of the development team was in attendance.
Composed by Kristofer Maddigan, the Cuphead OST features nearly 3 hours of original jazz, early big band, and ragtime music. Each song is played by live musicians, including a 13-piece big band, 10-piece ragtime ensemble, a solo pianist, a vocalist, a tap dancer, and a few surprises.
Discuss

(5)

Edit

Feed
Commercial (Digital) published by StudioMDHR on Sep 29, 2017 containing original soundtrack from Cuphead with compositions by Kristofer Maddigan performed by Vern Dorge, Andy Ballantyne, Alex Dean, Bob Leonard, John Johnson, Mike Murley, Jason Logue, Dave Dunlop, Kevin Turcotte, Steve McDade, Alastair Kay, Christian Overton, Peter Hysen, Scott Irvine, Robi Botos, Jeff McLeod, Rob Piltch, Paul.
| | |
| --- | --- |
| Catalog Number | N/A |
| Release Date | Sep 29, 2017 |
| Publish Format | Commercial |
| Release Price | 10.00 USD |
| Media Format | Digital |
| Classification | Original Soundtrack |
| Publisher | StudioMDHR |
| Exclusive Retailer | Bandcamp |
Credits
| | |
| --- | --- |
| Composer | Kristofer Maddigan |
| Performer | Vern Dorge, Andy Ballantyne, Alex Dean, Bob Leonard, John Johnson, Mike Murley, Jason Logue, Dave Dunlop, Kevin Turcotte, Steve McDade, Alastair Kay, Christian Overton, Peter Hysen, Scott Irvine, Robi Botos, Jeff McLeod, Rob Piltch, Paul Novotny, Jim Vivian, Neil Swainson, Ted Warren, Kristofer Maddigan, Mark Duggan, Alan Hetherington, Laura Chambers, Sasha Boychouk, Robert Venables, Tom Richards, Aaron Schwebel, Emily Hau, Moira Burke, Liza McLellan, Elizabeth Acker, Jonathan Dyck, Christina Faye, Allison Toffan, Alana Bridgewater, 'Shoptimus Prime, Tom Mifflin, Michael Black, Michael La Scala, Joel La Scala |
| Lyricist | Kristofer Maddigan |
Disc 1
| | | |
| --- | --- | --- |
| 01 | Don't Deal With The Devil | 0:42 |
| 02 | Don't Deal With The Devil (Instrumental) | 1:04 |
| 03 | Introduction | 3:31 |
| 04 | Tutorial | 1:40 |
| 05 | Elder Kettle | 5:14 |
| 06 | Inkwell Isle One | 3:15 |
| 07 | Botanic Panic | 4:01 |
| 08 | Die House | 1:36 |
| 09 | Elder Kettle (Piano) | 5:11 |
| 10 | Threatenin' Zeppelin | 3:28 |
| 11 | Treetop Trouble | 2:54 |
| 12 | Ruse Of An Ooze | 4:25 |
| 13 | Floral Fury | 3:45 |
| 14 | Inkwell Isle One (Piano) | 3:07 |
| 15 | Clip Joint Calamity | 3:54 |
| 16 | Forest Follies | 2:47 |
| 17 | Inkwell Isle Two | 2:49 |
| 18 | Sugarland Shimmy | 3:41 |
| 19 | Aviary Action | 4:03 |
| 20 | Inkwell Isle Two (Piano) | 2:49 |
| 21 | Carnival Kerfuffle | 4:01 |
| 22 | Fiery Frolic | 3:37 |
| 23 | Funfair Fever | 2:19 |
| 24 | The Mausoleum | 1:24 |
| 25 | Legendary Ghost | 1:45 |
| 26 | Pyramid Peril | 5:40 |
| 27 | Victory Tune | 1:40 |
| 28 | Hurry Up | 0:35 |
| 29 | A Quick Break | 1:11 |
| 30 | Coin-Op Bop | 4:55 |
| 31 | High Score | 1:05 |
| 32 | Funhouse Frazzle | 3:09 |
| 33 | Inkwell Isle Three | 2:54 |
| 34 | Honeycomb Herald | 4:38 |
| 35 | Porkrind's Shop | 2:15 |
| 36 | Shootin n' Lootin | 3:47 |
| 37 | Dramatic Fanatic | 4:57 |
| 38 | Perilous Piers | 2:09 |
| 39 | Murine Corps | 4:09 |
| 40 | Junkyard Jive | 4:24 |
| 41 | Rugged Ridge | 3:20 |
| 42 | High Seas Hi-Jinx | 3:22 |
| 43 | Railroad Wrath | 4:15 |
| 44 | Inkwell Isle Three (Piano) | 3:22 |
| 45 | The Airship | 5:07 |
| 46 | All Bets Are Off | 1:36 |
| 47 | Inkwell Hell | 2:46 |
| 48 | The King's Court | 3:51 |
| 49 | Inkwell Hell (Piano) | 2:43 |
| 50 | Chief Evil Officer | 0:41 |
| 51 | Admission To Perdition | 3:47 |
| 52 | Ominous Interlude | 0:10 |
| 53 | One Hell Of A Time | 3:02 |
| 54 | The End | 1:21 |
| 55 | Winner Takes All | 2:14 |
| 56 | Closing Credits | 7:10 |
Disc length
173:17
Cuphead - Official Soundtrack For Mac Osx
Notes
Cuphead - Official Soundtrack For Mac Free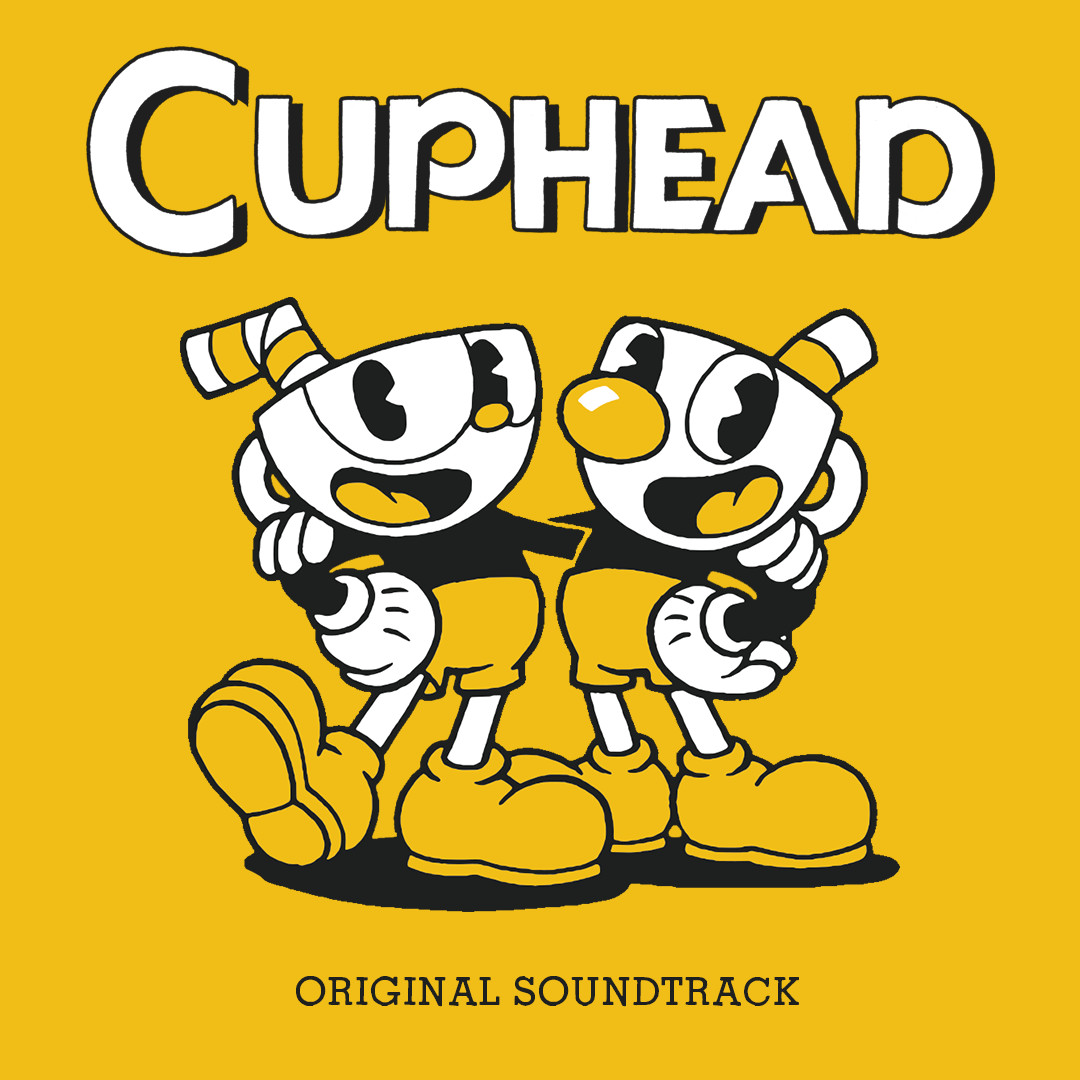 Cuphead File Download
Also available as DLC for owners of the game 'Cuphead' on Steam, or with 'Cuphead - Deluxe Edition'.
---
All music and lyrics by Kristofer Maddigan
Recorded at Canterbury Music Company, Toronto, Canada
Engineered, mixed, and edited by Jeremy Darby
Assistant engineer - Julian Decorte
Mastered by – Peter Letros, Wreckhouse Mastering, Toronto, Canada
John Herberman – contractor, conductor, midi programming
Additional piano recorded by Brad Prosko at B-rad Studio, Southey, Canada, and the Maddigan living room, Regina, Canada
Additional Editing and Recording – Adam King, Canterbury Music Company, Toronto, Canada
[Big Band]
Reeds
- Vern Dorge - Clarinet, Alto Sax
- Andy Ballantyne - Alto Sax, Clarinet
- Alex Dean - Tenor Sax, Clarinet
- Bob Leonard - Bari Sax, Clarinet
- Alto Sax and Clarinet solos by John Johnson
- Tenor sax solos by Alex Dean, Mike Murley
Brass
- Jason Logue - Trumpet
- Dave Dunlop - Trumpet
- Kevin Turcotte - Trumpet
- Steve McDade - Trumpet, Flugelhorn
- Alastair Kay - Trombone
- Christian Overton - Trombone
- Peter Hysen - Bass Trombone
- Scott Irvine - Tuba
- Trumpet solos by Steve McDade
- Trombone solos by Alastair Kay
Rhythm Section
- Robi Botos, Jeff McLeod - Piano
- Rob Piltch - Guitar, Banjo
- Paul Novotny, Jim Vivian, Neil Swainson - Bass
- Ted Warren - Drums
- Kristofer Maddigan - Vibraphone, Percussion
- Piano solos by Jeff McLeod
- Vibraphone solos by Mark Duggan
- Brazilian Percussion by Alan Hetherington
[Ragtime Band]
Woodwinds
- Laura Chambers - Piccolo, Flute, Bass Flute
- Sasha Boychouk - Clarinet
Brass
- Robert Venables - Cornet
- Tom Richards - Trombone
- Scott Irvine - Tuba
String Quartet
- Aaron Schwebel, Emily Hau - Violin
- Moira Burke - Viola
- Liza McLellan - Cello
Rhythm Section
- Elizabeth Acker, Jeff McLeod - Piano
- Rob Piltch - Guitar, Banjo
- Paul Novotny - Upright Bass
- Kristofer Maddigan - Drums, Xylophone
Ragtime - Solo Piano/Trio
- Laura Chambers - Piccolo
- Jonathan Dyck, Christina Faye, Liz Acker, Kristofer Maddigan - Piano
- Kristofer Maddigan - Percussion
Tap Dancer - Allison Toffan
Vocals - Alana Bridgewater
Barbershop Quartet: 'Shoptimus Prime
- Tom Mifflin
- Michael Black
- Michael La Scala
- Joel La Scala
Additional
Jonathan Dyck - Organ
Kris Maddigan would like to thank
-Mom, Dad, Shannon, Alison, Matt, Carolyn
-Phill Albert, Emily Denison, Chris Gale, Ben Hognestad, and Jeff McLeod for their excellent playing on the trailers
-Chad and Jared Moldenhauer, and everyone at Studio MDHR
-John Herberman for basically teaching me how to write and orchestrate from scratch
-Jeremy Darby, the hardest working recording engineer imaginable. Sorry for all the deadlines
-SOCAN
-Island Foods – best rotis in Toronto
-Special thanks to Ben Bishop, Terry Clarke, Daniel Jameson, Noam Lemish, Jim Lewis, Terry Promane, Kevin Turcotte
-All of the incredible musicians who played the shit out of these charts, your personalities shine through on every track
Musical Influences on Cuphead
JS Bach, Count Basie, Tom Brier (get well soon!), Cab Calloway, Duke Ellington, George Gershwin, Vince Giordano and the Nighthawks, Benny Goodman, Fletcher Henderson, Cliff Jackson, Scott Joplin, Gene Krupa, Jimmie Lunceford, Henry Mancini, Rob McConnell and the Boss Brass, Carmen Miranda, Yasunori Mitsuda, Jelly Roll Morton, Nicholas Brothers, Mário Reis, Joe Rinaudo and his American Fotoplayer, Gerardo Matos Rodríguez, Gunther Schuller, John Philip Sousa, Nobuo Uematsu, Richard Wagner, Chick Webb, Whitey's Lindy Hoppers, John Williams, 'Washboard' Kitty Wilson